Standard Solution 1.38 - Release notes
Released: November 1st, 2022
Standard solution 1.38 provides you with additional documentation about how to set up UCITS limits along with other smaller improvements.
UCITS limits documentation part 2
Mutual fund portfolios often have very specific investment policies defined in their rules and in the governing law. For example, in the European Union, UCITS funds are governed by the investment policies defined in Chapter 7 of the UCITS directive, local laws, and fund rules. In FA, you can define the limits and use them to make sure that your mutual fund follows the investment policies.
Version 1.37 provided documentation for the first 10 limits on how UCITS limits can be set up in FA using FA's limits functionality, and version 1.38 now provides additional documentation for limits 11-17. The documentation can act as a base for setting it up, and you might need to adjust them to suit your local laws or fund rules.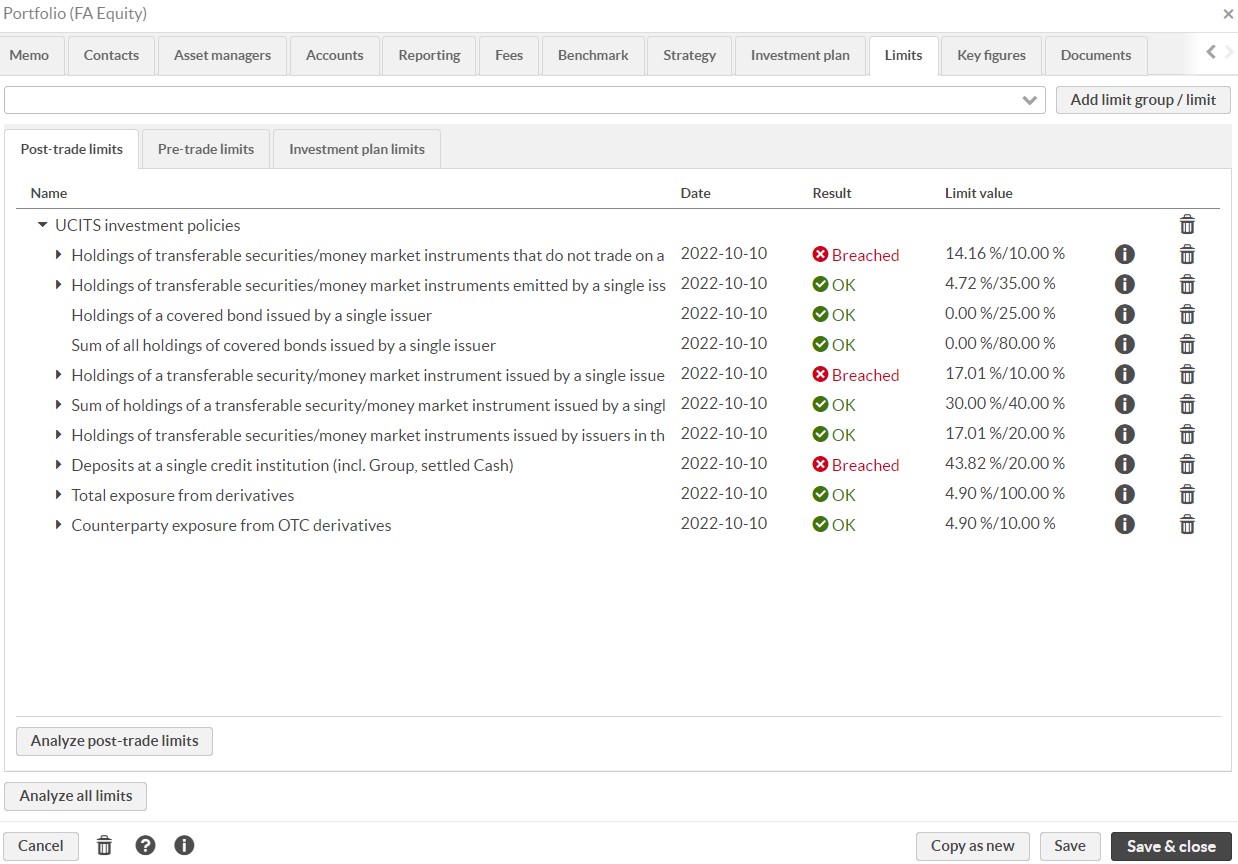 Learn more: Set up investment limits for mutual fund portfolios in FA User Guide.
Finnish, Swedish and Norwegian tax reporting are all now following the same menu structure in FA. General tax configurations are launched from Administer → Tax Reporting → [Country], and tax reports from Portfolios view → Tax reporting →  [Country]
Payment channel tags Channel-DNB and Channel-Swedbank have been added along with documentation to enable the user to define which bank the payment instruction should be sent to. 
Security type Forward cashflows now uses decimal count 2 instead of 0 to capture the profit and loss properly. Useful in situations where FX contracts without cashflows (non-deliverable forward) and nominal amounts never go/leave accounts are used.
Finnish tax reporting
Removed an incorrect configuration so that VSTVERIE report now can be run.
Fund Management
Decision table (fa-cut-off-for-fund-pf.xlsx) which can be used to make sure that certain transactions or trade orders that come after the cut-off time don't affect the NAV calculation, now properly handles the scenario when a trade order with status Executable or Rejected is added without a linked security (cash transaction). For more information, see ???.